Unfolding Open Air Sculpture
C SEED N1 165 & 137 TV
THE FUTURE OF OUTDOOR TV'S
The C SEED N1 Outdoor TV is a perfect marriage of the brand's heritage, craftsmanship and luxurious minimalistic aesthetic. The C SEED N1 Outdoor TV makes its debut with a flair for the dramatic. What looks like sheer magic is in fact an astounding feat of advanced engineering. With its minimalistic floor stand it gives the impression of a one-piece sculptural element that reflects contemporary architectural sensibilities.
The N1 features 16-bit color processing, 4,000 nits of brightness, a refresh rate of 3,840 Hz, 7,000:1 contrast, and 1.9 or 1.6 pixel resolution with an IP65 rating.
INGENIOUSLY ENGINEERED
Lounging in the open air while enjoying the very best entertainment under the sun – or the stars: The C SEED N1 Outdoor TV features MicroLED technology and HDR support. Its special physical screen surface coating helps to produce truest blacks and amazingly vibrant colors with practically no glare. C SEED's patented Adaptive Gap Calibration makes the borders between the screen panels disappear to provide a perfectly seamless visual experience.
From the sleeping beauty...
The N1 Outdoor TV takes only 60 seconds to rise to its height of three meters and five MicroLED panels unfold in the next 25 seconds to create a seamless monumental 165 or 137 inch display.
...to the unfolding sculpture
The panels interlock to form a seamless TV screen that bursts into action with best-in-class pixel power for ultra-high resolution images in any daylight environment, including direct sunshine. For ultimate viewing comfort, the screen rotates 180 degrees left or 90 degrees left and right, to be viewed between lounge area, swimming pool or jacuzzi.
UNPARALLELED FEATURES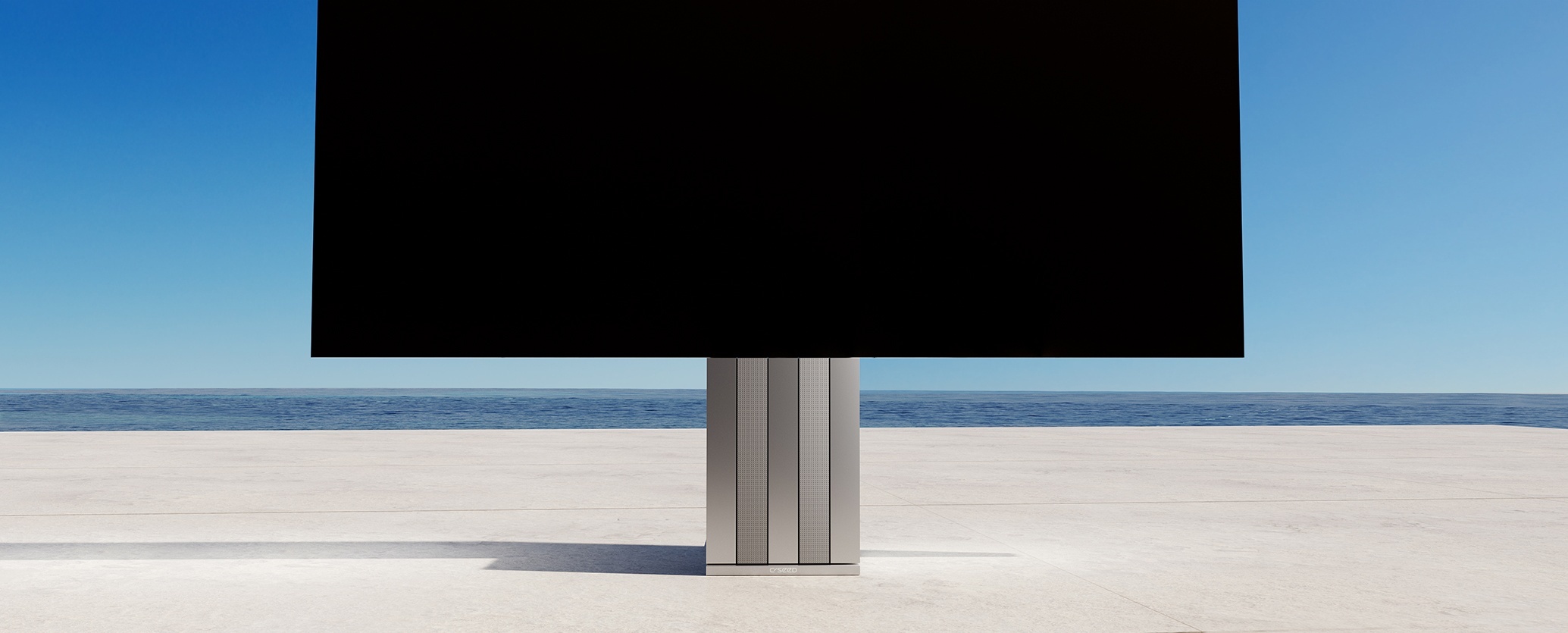 Multisensory experience
The N1 Outdoor TV offers an immersive viewing and listening experience; the TV has two built-in 100 watt broadband coaxial speakers and integrated subwoofer in the column, with additional twin coaxial speakers in each wing. The necessary interfaces are designed with a wide soundstage in mind, from 5.1 up to 9.2 surround sound, making it easy to create the outdoor theatre experience. The soundbar is organically integrated into the frame design.
Weather-resistant
Rain or shine, enjoy outdoor entertainment all year round. The N1 Outdoor TV is weatherproofed to withstand the elements, as the protection grade of MicroLED panel surface is IP65. You can leave it outside all year round without getting damaged by rain, seawater or snow. Reliable wind and temperature sensors prevent adverse outdoor conditions from damaging the TV.
DEEP BLACK,
PURE COLOR,
ENCHANCED DURABILITY
Black is the all-important touchstone of display technology. N1 Total Black employs a special surface treatment to achieve stunning contrast and perfect detail, while preventing glare. True colors are the life of a display, and the N1 brings colors to life like never before with approximately twice the color purity of conventional LEDs. MicroLEDs are made of long-lasting materials, giving the N1 screen a potential lifespan of up to 100,000 hours.

4K MicroLED Technology
The C SEED N1 uses cutting-edge MicroLED technology to achieve superior contrast, brightness and an unparalleled color spectrum. C SEED video processing creates true-life images with a color processing depth of 16 bit per color. The N1 features HDR10+ support, 4,000 nits of brightness, a refresh rate of 3,840 Hz, and 7,000:1 contrast.
TECHNICAL DATA
& drawings
LED TV size (diagonal)
inch/mm
LED TV size (width)
inch/mm
LED TV size (height)
inch/mm
81 / 2057.4
67.5 / 1714.5
Standard LED screen (depth)
inch/mm
Color temperature adjustable
k
Viewing angle - horizontal | vertical
degrees
Operating temperature range
°C: -20 to + 45 | °F: -4 to +113
Broadband speaker peak out
W
Broadband speaker frequency range
Subwoofer frequency range
5 x HDMI, 1 x HDCP 2.2 support
pre-amp. 9.2, independent sub
Power supply LED screen
Standard
3 x 400V+N+PE/16A/50-60Hz
-
1 x 240V+N+PE/32A/50-60Hz
Single-Phase / Split-Phase
Input power max | typical
W/m²
Power consumption max | typical
kW
2.1 Sound System, 9.2 AV-Receiver
Remote Control, HD Video-Controller
TV rotation: 180° left (counterclockwise) or 90° left and right
Color: Titanium Matt Metallic